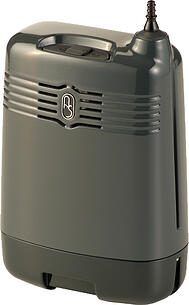 There are numerous amounts of portable oxygen concentrators on the market, as well as a ton of different features so it may be troublesome to decide on a specific oxygen concentrator. When deciding on a portable oxygen concentrator make sure that it will adequately supplement your oxygen needs according to your prescription. Today we will be doing a full review on the lightest portable oxygen concentrator on the market today, the AirSep Focus. The AirSep Focus was engineered for patients that want to receive their medical grade oxygen while still being able to move freely, without being weighed down by additional and unnecessary weight.
AirSep Focus Specifications
The AirSep Focus portable oxygen concentrator can go anywhere patients go, because the focus weighs a minimal 1.75 pounds and with the necessary external battery attached it will only add all of 0.5 lbs. The Focus does not have an internal battery built in, however, the external batteries are very portable and easily attach at the hip through the optional battery belt, the patients hip, or directly on the shoulder strap itself during times of activity. The AirSep Focus is for medical oxygen patients that are prescribed a pulse flow setting of 2, if your prescribed flow rate exceeds a setting of 2 then the AirSep FreeStyle 5 may be more for you. The dimensions are a discrete 6.4" Height x 4.8" Wide x 2.5" Deep. The Focus has an elevation trigger that cannot exceed 10,000 feet, so if you live at sea level you will never have to worry, but if you plan on traveling to higher elevations be sure to speak with your doctor and ask if your flow requirement needs to be adjusted.
AirSep Focus Battery Life
Flow Rate

Internal Battery

External Batteries

2

NO Internal Battery

Up to 1.5 Hours per Battery

AirBelt – Up to 4 Hours

AirSep External Cartridge- Up to 3.5 Hours
Traveling is one of the most exciting and rewarding things in life, however being a medical oxygen patient can make traveling a huge hassle. Well with the FAA approved AirSep Focus your travels will be as easy as ever, with 4 options for power AC/DC, external lithium ion batteries, optional AirBelt external battery, or the brand new AirSep external battery cartrdige w/ external charger. you can be assured you will not go a minute without your necessary oxygen. If you are on a long road trip and are worried about receiving your medical grade oxygen, the Focus has the ability to power and charge the batteries while hooked up to the DC power supply. This is simply done by plugging the DC power supply into the cigarette outlet, which comes standard in most cars. trucks, and SUVs.