When you're looking through the various portable oxygen concentrators for your needs, you want to find a model that enable you to improve your quality of life, get rid of your oxygen tanks, locate the best priced device, and find the lightest weight model that meets your lifestyle. And if things like traveling and daily living are important to you, then there are several devices to consider.
Lightweight Portable Oxygen Concentrators
If it's important for you to get around easily, you might want to look into models that are under five pounds in weight. Among them are the following FAA approved devices that also provide excellent product guarantees:
AirSep Focus
One of the lightest models is the palm-sized AirSep Focus. Its dimensions are 4.8"W x 2.52D x 6.4"H. The Focus weighs in at 1.75 pounds and has a battery life of up to 1.5 hours and four hours with an optional air belt. There is a Flow Rate of Pulse 2. It comes with a D/C power cord, so you can plug it in to your car, boat, or RV. The controls are easy to operate and the two batteries come with indicators so you're safe at all times.
AirSep FreeStyle 3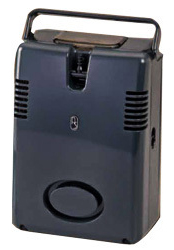 The AirSep FreeStyle 3 weighs 4.4 pounds with dimensions of 6.1"W x 3.6"D x 8.6"H. It's so small that you can put it in a camera case or over-the-shoulder carrying case. It's among the quietest models available, so you can enjoy unencumbered visits to the movies or library.
The internal battery lasts up to 3.5 hours, and with the optional AirBelt, you can receive 10 hours on the setting number 1. The AirSep FreeStyle 3 runs on battery power on the traditional A/C power or via its D/C cord when you're in your car, RV, or boat.
LifeChoice Activox Pro
At 4.3 pounds in weight, the LifeChoice Activox Pro measures just 9.05"W x 7.875"H x 4.38"D. Newly released by its manufacturer Inova Labs, this model is ideal when you're an active oxygen patient. It comes with a four-way carrying case that can be altered into several different positions so it's comfortable whether you are shopping, playing golf, going fishing, or just need your hands free. Its battery gives you up to 12.5 hours of power.
LifeChoice Activox Sport
The LifeChoice Activox Sport weighs 3.9 pounds and measures 9.05"W x 7.875"T x 4.38"D, so if you love to travel, this model may be just the one for you. It comes with both internal and external batteries. The internal battery will supply you with up to five hours, while the external battery can last up to three hours depending on your flow setting.
The model has been designed to be used as a 24-hour oxygen concentrator, and 85 percent of patients can sleep with it. It comes with unique Sleep Mode Technology that enables the device to increase its oxygen sensitivity by 10 times and the PULSE-WAVE technology makes sure that you receive your full dose of oxygen and none is wasted.
Inogen One G3
The Inogen G3 weighs in at 4.8 pounds and has 8- and 16-cell batteries and measures 8.75"W x 3"D x 7.25"H. The 8-cell battery provides up to six hours with a 2-4 hour recharge time while the 16-cell offers up to 12 hours of life on a setting of 1. It also provides pulse settings from 1-4. It runs at 42 decibels, making it the quietest portable oxygen concentrator on the market.
If you have any questions about the units listed above, feel free to call us and speak with a respiratory specialist at 1-800-520-5726 or leave a comment below!